SB6183 vs DG1670A latency
See also: SB6183 dropping IPv6 traffic
Comparing latency in cable modems: SB6183 (16 channel DOCSIS 3 modem only) vs DG1670A (16 channel DOCSIS 3 modem+router combo, in bridge mode)
Arris DG1670A
Average latency of 100 ICMP echo replies to the default gateway: 20.904 ms
round-trip NTP latency through the modem from a remote server: 22.4ms - 32.8ms
Speedtest: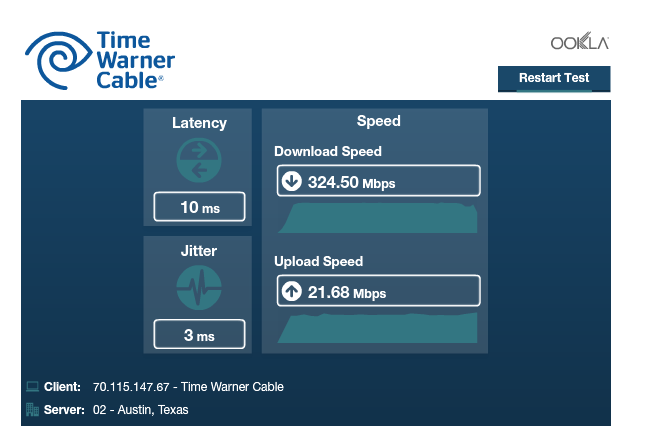 Arris SB6183
Average latency of 100 ICMP echo replies to the default gateway: 15.081 ms
round-trip NTP latency through the modem from a remote server: 17.8ms - 24.4ms
Speedtest: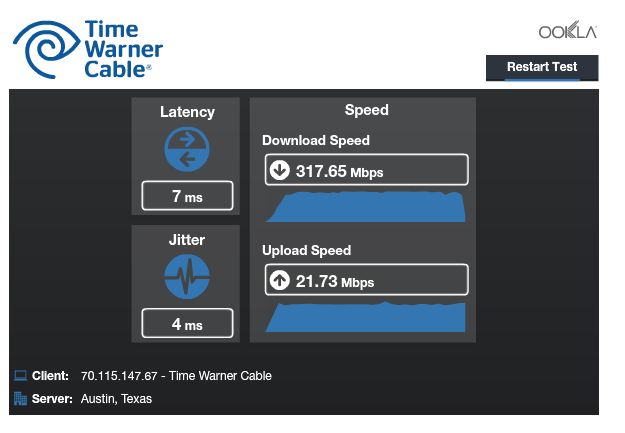 Features
DG1670A has a router and wifi built in, SB6183 requires a separate router. Having a standalone router/wifi is actually a good thing as they change much quicker than the modems do. At a $6/mo rental fee, it'd take 22 months to make up for the $130 cost.
Conclusion
SB6183 is around 5ms better. The difference in download speed is just normal fluctuation.